Elements
Each element is strong and weak against other elements and will take or do increased damage accordingly.
Attacking with a strong element (

against

, for example) will give you a 33% attack bonus. When attacking with a weak element (

against

), your damage is reduced by 25%.

and

are special, in that they are both weak and strong against each other, so

monsters will take extra damage from

attacks, but rock attacks also do extra damage to wind monsters.
When you have collected enough of the same element monsters, you will want to build a mono team to give your team the maximum attack strength.
---
Elementary Elements
---

Water

Rock

Fire

Wind

Leaf
---
Elemental Table
---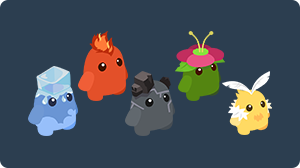 Next
Specials aren't really useful for battling, but are useful for leveling up monsters.
Feedback
Want something added?