Badges
You get badges for completing all the goals in an area. Each badge you earn lets you move on to the next camp. For example, earning the badge in Teepee Hollow lets you move on to Turtle Falls.
You can choose which badge you want to display by tapping your avatar, then tapping the badge icon to the left of your profile picture. This will bring up a list of all badges you've earned. Just tap the one you wish to showcase to other players. To earn the final architect badge, you must complete all 5 crystals in addition to the Architect in Lost Temple Hall with your troop.
Badges


Locked


Penny


Poseithon


Sinferno


Quakemaker


Wingdigo


Witherslither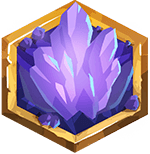 The Architect

Next
Craft monsters by salvaging monsters you don't want.
Feedback
Want something added?